Details

Category: Features
The World Health Organization reports that "Close to 800 000 people die due to suicide every year, which is one person every 40 seconds. Suicide is a global phenomenon and occurs throughout the lifespan. Effective and evidence-based interventions can be implemented at population, sub-population and individual levels to prevent suicide and suicide attempts. There are indications that for each adult who died by suicide there may have been more than 20 others attempting suicide".
It is reported that in South Africa 9 percent of all teen deaths are caused by suicide. The fastest growing age is young people under the age of 35, specifically female suicides which peak between 15 to 19 years.
Some counsellor prefer not to use the term suicide, but rather self-harm. Self-harm is then defined as any act of deliberate self-poisoning or self-injury, regardless of motivation, and self-harm mortality is a death resulting from such an act.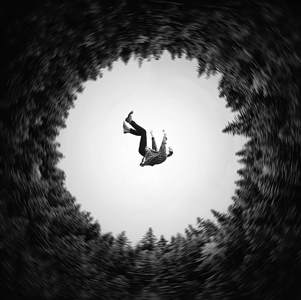 (Picture: pxfuel.com)
Youth are at risk because they face a number of social, economic and health challenges that contribute to self-harm behaviours, including the emotional and mental stress associated with high unemployment rates, poverty, HIV/AIDS, educational difficulties, physical and emotional abuse, parental separation and substance abuse.
Pregnancy increases the likelihood that young females in SA will commit suicide. Fertility rates among youth in SA are high, with 36.6% of females aged 15 - 24 years have at least one child. Many women aged 15 - 24 years, are single mothers. Self-harm ideation and behaviours could therefore be the result of young women feeling abandoned by their partners, stigmatised by their families, and have serious financial problems.
Hanging was the main cause of self-harm mortality among youth. One possible reason for hanging can be regarded as a 'clean method' that does not cause harm to the body (e.g. bloodshed and dismemberment), requires little planning, and is an accessible method that does not require weapons or pharmaceuticals, which can be difficult to access.
Pesticide poisoning is currently the most common method of self-harm mortality worldwide.
People who have attempted suicide before are particularly vulnerable.
What to look out for:
Identifying the intention of these behaviours is pivotal to the implementation of successful prevention strategies.
Be concerned about depressed persons if at least five of the following symptoms have been present nearly every day for a week:

Depressed mood and morbid conversations

Change in sleeping patterns - disruptive nightmares all the time

Change in appetite or weight - no appetite

Speaking or moving with unusual speed or slowness

Fatigue or loss of energy

Feelings of worthlessness , self-reproach or guilt

Thoughts of death, funerals or suicide
Additional factors that point to an increased risk for suicide in depressed individuals are:

Extreme anxiety, agitation or enraged behaviour

Excessive drug and / or alcohol use or abuse - including "natural" drugs preparations

History of physical, physological or emotional unwellness

Feelings of hopelessness, helplessness, embitterment or desperation
75% of all suicides give some warning of their intentions to a friend or family member. All suicide threats and attempts should be taken seriously.
If a family member or friend confides in you that they are experiencing suicidal thoughts it is important to consider how challenging and risky it may have felt for them to do so. It is quite possible that this person is fearful of being judged.
Avoid minimising the problems that may have led to the suicidal thoughts: saying something like 'it's not that bad' is not helpful.
Encourage the person with suicidal ideation to contact their local GP and local counselling service.
Sources:
de Wet, N. (2017). Gendered risk factors associated with self-harm mortality among youth in South Africa, 2006 - 2014. SAMJ: South African Medical Journal, 107(12), 1132-1136.
http://www.sadag.org/
https://www.who.int/mental_health/prevention/suicide/suicideprevent/en/
New Online Workshops
Helping Grieving Children starts 29 February 2020
Reality of Suicide starts 31 March 2020
Nuwe aanlynberadingswerkswinkels in Afrikaans!
Hoe om Kinders wat Rou en Treur te help – begin 29 Februarie 2020
Die Werklikheid van Selfdood – begin 31 Maart 2020.
Details

Category: Features
(Article by Dr Barbara Louw)
Most people expect to walk into a counsellor's office and after an hour emerge problem free, healed and whole. Of course there are the naysayers who walk into the same office with the notion that nobody will ever be able to 'fix' them.
The truth is that 98% of people will feel better after a single session where they used the opportunity to share their worries, concerns and pain. The initial relief might enable some to refocus and work through the challenges, while other might need a few more counselling sessions.
Counselling is a therapeutic process where a counsellor guides you to do the essential work to ensure grow towards wellness. The therapeutic work that is necessary will include taking appropriate responsibility, making changes and adapt enough to set new life goals.
The real work starts with continued commitment to achieve these goals and engaging in new behaviour patterns which prevent you from going back to you 'old ways'. The success of your counselling process is largely dependents on your commitment and willingness to change.
How can you get the best from your counselling relationship?
Be committed to become well.
Choose the best available counsellor who specialises in dealing cases like the problems you face. Reputable counsellors have no problem to give account of their education and professional registration status.
Make sure of the fees and contractual detail.
Be honest with yourself and your counsellor. Keeping secrets and withholding strategic fact disempowers the counsellor from formulating a comprehensive picture of what the challenges and obstacles are and how to address your unique situation.
Do your homework diligently.
Adjust your sleeping pattern and sleep well to allow you to enhance the healing process.
That being said, why are some people dissatisfied with their counselling experiences? There are a number of reasons that I would like to highlight.
The main question is: Why do you make an appointment for counselling? Your answer will be a significant indication of the outcome of therapeutic process. If you come for counselling to please someone, we are wasting precious time. If you sit in my office saying "My sister forced me to come…" or "My manager sent me, but I don't need any help..." the outcome will be poor. You are not committed and you enrolled your sister or manager for blame if the process fails.
Some people are affected by the perception that there is a stigma to getting counselling. They are scared to be 'analysed' or that the counsellor may think they are 'crazy'. Starting from this point severely limits the possibility to helping you.
Arriving for a counselling session when you are numbed out or high on substance is counterproductive.
However, there are clients who are in love with the drama of life. Counselling is of little value for them, because they found 'identity' in their drama and stormy relationships. Their storms and gossip became more important than being a responsible adult.
The last group that will not benefit from counselling are the people who are reluctant to get help. They believe they have all the answers. They have multitude of advisors, counsellors and pastors, but they listen to none. What will make a counselling session with the next counsellor any different?
Counselling doesn't work, because you have to do the work to get away from a problem-saturated way of thinking. A good counsellor will guide you on a journey with a clear therapeutic road map towards wellness.
For more information about counselling and training you can send an email to us.
Details

Category: Features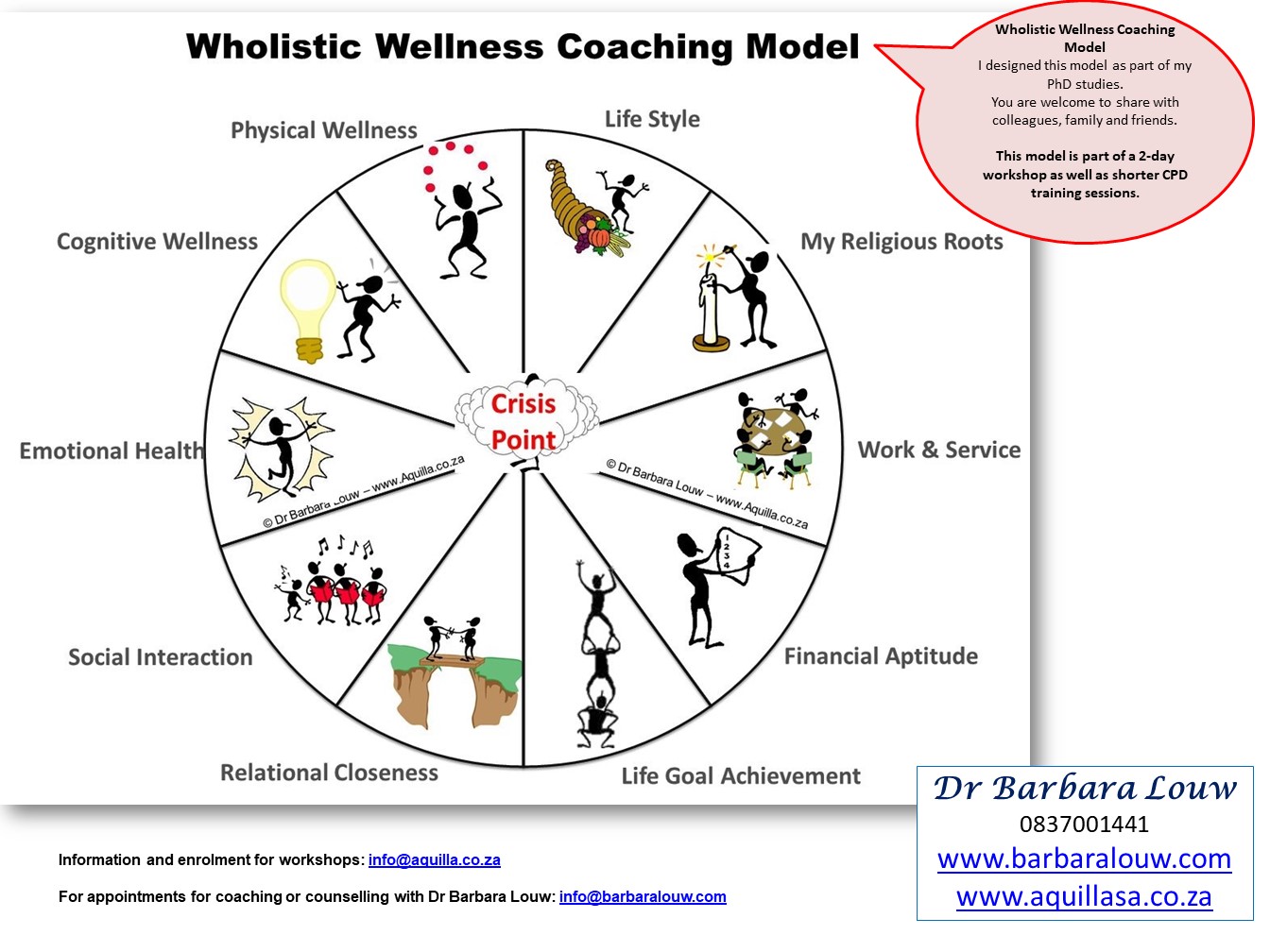 This Wholistic Wellness Coaching Model is a ten tier tool to help you to grow in every area in your life.This model was designed as part of Dr Barbara Louw's PhD studies and various workshops. She made it available for you to download, share and utilize to grow towards wellness.
In the workshops she trains people to tutilize this model, with all the elements and dynamics that underpind these ten tiers. The greatest benefit of the model is that the client, counsellor and coach experience grow and positive change from the very first session.
Click on the Afrikaans button to download the Afrikaans version of the model.
Details

Category: Features
(This article was originally written for the Association of Christian Counsellors in SA in 2017)
The notion of a network is well demonstrated when thinking about computers on a network which are linked through cables, radio waves or satellites. The purpose of the connection is to work together and share information in a manner that is efficient and synergetic.
In the world of business, networking can be described as intermingling with people to exchange information and meet new contacts, especially to further a business or career.
In the ministry of pastors and counsellors this skill is often overlooked and neglected. The reasons for this oversight can vary from being too busy, seeing more than enough people with problems or not knowing where to start. Maybe the question is: "Why bother?"
In our ministry, Inter Trauma Nexus, we found that networking is essential when working in a community. Nexus actually means 'network'. The reality is that trust relationships are not formed in a crisis. When crisis and trauma hits people's lives, sound relationship must already be in place if we wish the serve and minister in a community.
We define a sound relationship as a relationship where we can encourage, support and even challenge each other to grow towards a dynamic relationship with God and other people.
Details

Category: Features
Inter Trauma Nexus focuses on four main themes of trauma intervention to enhance healing and wholeness. These areas are the posttraumatic reality of trauma; acute and ongoing trauma; anticipated crisis and trauma; as well as spiritual crisis and trauma.

The posttraumatic reality of trauma includes normal posttraumatic stress reactions (PTSR) and the need to normalize various aspects of life after hurtful experiences. This theme includes posttraumatic stress disorder (PTSD); posttraumatic embitterment reaction (PTER) and posttraumatic embitterment disorder (PTED). Our aim is help people deal with the reactions, effectively and swiftly to prevent disempowering patterns of behaviour and disabling disorders.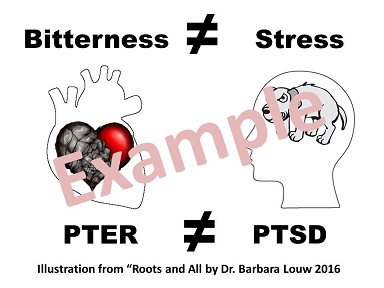 Details

Category: Features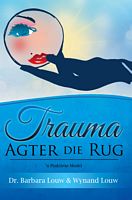 Die boek gee vir jou praktiese riglyne om jou te help om aan te beweeg met jou lewe na trauma. Hierin sal jy riglyne vind oor hoe om die warboel van emosies wat jy ervaar te verstaan en te hanteer. Daar is ook inligting oor verwarrende reaksies op trauma en die vrae wat jy dalk het oor geloof en geestelikheid.

Praktiese hulp, aanwysings en wenke is volop in die boek tevinde en dit sal jou bystaan in hierdie proses van genesing, heel word en vergifnis.'n Unieke deel van hierdie boek is die afdeling oor die finansiële impak van trauma en hoe 'n mens daarna herstel. Die idees en konsepte in hierdie boek word al vir meer as 25 jaar getoets
en ons maak gebruik van die tydlose Bybelse boodskap van hoop.
Barbara & Wynand Louw werk al vir meer as 30 jaar saam in die bediening en gemeenskap. Hulle is albei ingeseënde predikante en stigterslede van 'n nie-winsgewende organisasie, Inter Trauma Nexus. Hierdie organisasie spesialiseer in slagofferbystand, krisis intervensie, traumaverligtingsfasilitering en berading.